LIGHT SERIES CANTILEVER HARDWARE
Made in Italy our light series is designed for cantilever gates with an opening of up to 3.500 metres wide and a maximum weight of 180kg. With all cantilever gates it is important to select the correct series to match your needs. Use the handy calculator to see if the light series will suit you. By changing your gate weight or distance between your trolleys you can alter the result but if you are not happy with your choice simply return to the cantilever hardware tab and try another series.
CANTILEVER TROLLEY LIGHT
Cantilever trolley for gates up to 3.500 metres and 180kg. Gates require two trolleys.
Dimensions click here.
CANTROLLGT
- $178.80
BUY ONLINE
CANTILEVER END ROLLER LIGHT
Slides into the end of your track and allows easy access to your stops.
Dimensions click here.
CANENDLGT
- $43.50
BUY ONLINE
CANTILEVER RECEIVER LIGHT
Stop bracket / receiver for the guide roller.
CANRECLGT
- $22.10
BUY ONLINE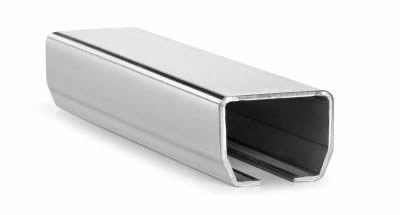 CANTILEVER TRACK LIGHT
Galvanised Cantilever track in 3 metre lengths. Dimensions are 57mm wide x 67mm high (External). Weight - 15.0kg
CANTRACLGT
- $185.10
BUY ONLINE
OTHER PAGES OF INTEREST